Feb 02, 2012
Unit #3, Installation / Performance,Art Live Fair, Coconut Grove, 2012
see here Video by Neal Hecker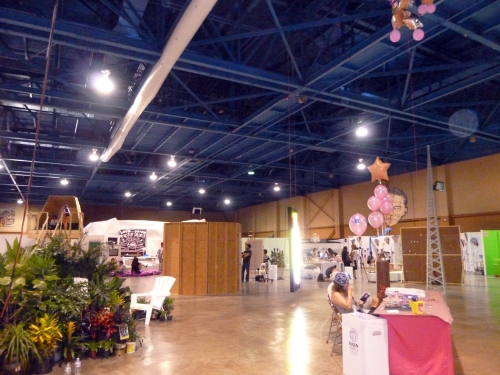 Installing a sculpture / Providing an intimate space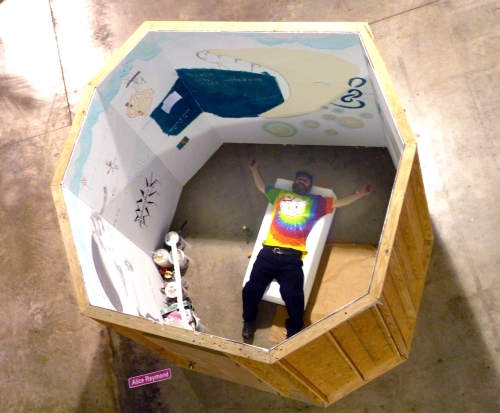 Organizing my studio / Sharing my space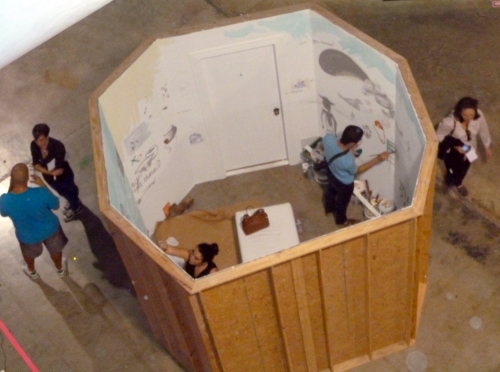 Facilitating the two by two / Sharing my walls
Accepting the working over / Growing the collective piece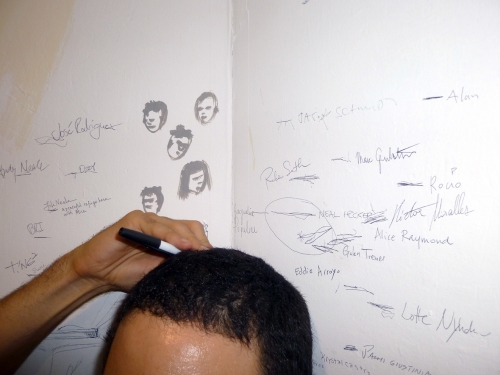 Focusing on the meeting in the working process / Keeping track of each one by one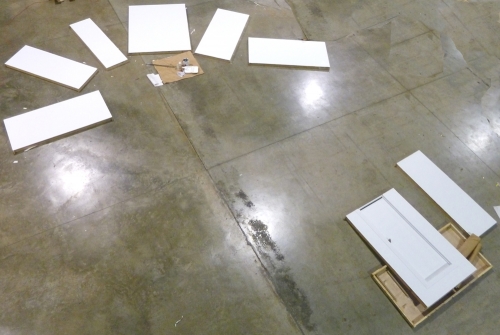 Giving the piece away / Keeping the process going
All rights reversed © Alice Raymond
_____________________________________________________________________________
UNIT #2
Performance, Dimensions Variable, Miami, 2012
Film by Jayme Gershen>Link: https://vimeo.com/51169548
All rights reversed © Alice Raymond & Jayme Gershen
Issues with borders, laws regarding to art transportation, nomadic life and creation.
_____________________________________________________________________________

UNIT
Solo show at Dimension Variable, Miami, FL
January 14 - March, 2012
http://dimensionsvariable.net/2011/12/22/unit-alice-raymond/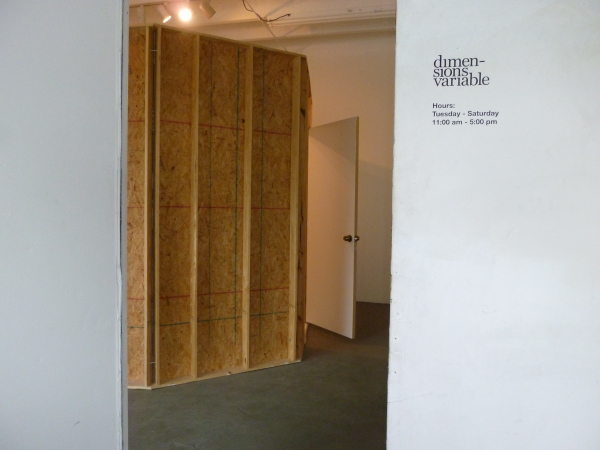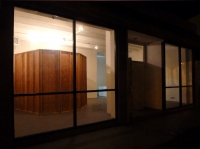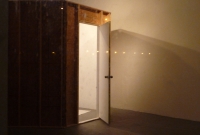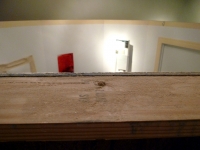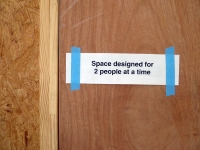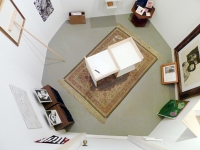 All rights reversed © Alice Raymond
Work based on invitation to form a collection with the artist.
Unit consists of :
Jenny Brillhart, Annie Hollingsworth, Jet Sargent, Stephanie Marie, Chad Cunha, Jacqueline Soir, Domingo Castillo, Leyden Rodriguez, Frances Trombly, Randolph Gonzales, Paul Steen, Per Nyström, Adler Guerrier, Jayme Gershen, Emmett Moore, Larry Newberry, Sabine Herrmann, Carol Jazzar, Misael Soto, Alice Raymond.
Jet Sargent
Kind of Untitled, Cross Stitches and Lexicon on small table
"I am a firm believer in not taking oneself too seriously".
By combining the soft comfort of cross stitching with the depravity that lives in my brain, life makes a little more sense."
Jacqueline Soir
Untitled, 3 digital black and white photographs
Jacqueline Rios "Soir" was raised and live in Miami, born in Nicaragua. She is currently pursuing a Bachelor degree in Fine Arts from New World School of the Arts with a focus on Photography. Her work is mostly staged photographs with obscure figures that represent metaphors for the unconscious and the hidden, personality and the soul, life and death, human nature.
www.jacquelinesoir.blogspot.com
Jenny Brillhart
Intercontinental Hotel Vent, 2011, Painting on wooden structure
Brillhart's work is concerned with a dialogue between made and found spaces and forms, and their relationship to place, structure and organization. She uses traditional methods of still life, studio practice, photography and paint to inform each object or painting, bringing to it a new history and diary of existence, and then proposing to forward that record to future, unknown contexts. These objects are therefore always in flux, whether made or found, and striving to stay in keeping with the initial impulse of authorship, making, or purpose. The formation of objects and materials reveals a process of adding and subtracting on purpose or in err, in an attempt to balance or level ideas of beauty, form, structure and narrative.
Brillhart was born in Keene, NH. She received her BA from Smith College, then attended the Art Students League in NY and went on to receive her MFA in from the New York Academy of Art. She lives and works in Miami, Florida.
Brillhart's most recent solo show was at Dorsch Gallery in 2011. In 2010 she showed new work with Kuckei + Kuckei Gallery in Berlin and she was chosen for New Work Miami at the Miami Art Museum, curated by Rene Morales and Peter Boswell. Brillhart recently participated in group shows at venues including The Naples Museum of Art (Naples, FL), David Castillo Gallery (Miami, FL), the Anhaltinischen Gemäldegalerie Museum in Dessau, Roemerapotheke Gallery in Zurich, The Art Gallery at Government Center in Miami, Morgan Lehman Gallery in NY and CT, and ArtCenter/South Florida in Miami Beach. Her work has been published in The McKinsey Quarterly, New American Paintings and Miami Contemporary Artists. She was awarded the Chestler Foundation Grant and a Vermont Studio Center grant.
Carol Jazzar
Exploring youth in my head and with my hands, Text based collage, September 2011-January 2012
Annie Hollingsworth
Sketch for Elegua costume, 2012; Sketch for Shango costume, 2012; Sketch for Swange costume, 2012
At the end of 2011, my dance company Mayami Folklorico pulled together a diverse group of folkloric dancers and drummers for our first full-length show. As the production progressed, it became clear that this show had a life of its own. With only a week left for rehearsal, the pieces I had expected to produce fell away, leaving me with something very different than what I had originally planned. It was a volatile transformation marked by an indecent marriage proposal, a clash between spiritual philosophies, and a major shift in casting—an appropriate finale for a show whose purpose was the union of Haitian and Cuban Folklore (and all of their attendant energies). I could never say which show would have been better, the one I had expected or the one that was actually brought into form, but in the end life was given to only one.
The three "lost" pieces have remained as persistent ideas. Alice was there in the cafe on the day that these particular pieces were first proposed, so for Unit I've sent her color swatches for the costumes that were never finished. In traditional dances, the color combinations and geometric patterns of the costumes name the deity or group of spirits embodied on stage.
Chad Cunha
Preservation boxes, Found card board, hinges, lock, key, magnets, 2011
Chad's work investigates instances of oscillating energy between concepts, visuals and perspectives.
http://cargocollective.com/chadcunha
Leyden Rodriguez
Frame, paper, wood
Frances Trombly
Primed Canvas, Handwoven Canvas, gesso, 23 X 23 inches
Born in Miami, Florida where she lives and works, Frances received a BFA from the Maryland Institute College of Art and completed residencies at the Capri Palace in Anacapri, Italy in 2009 and the Vermont Studio Center in 2007. Trombly has exhibited throughout the US, as well as venues abroad, including an installation at Socrates Sculpture Park in New York and numerous group exhibitions.
Recent solo exhibitions of her work include: Not Paintings, Shoshana Wayne Gallery, Santa Monica (2011); Everything and Nothing, Goldie Paley Gallery, Moore College of Art & Design, Philadelphia (2011); Paintings, Girls' Club, Ft. Lauderdale, Florida (2010); A Point From Which to Start, Galeria Casas Riegner, Bogotá, Colombia (2010); Thinking of Things at David Castillo Gallery, Miami (2008); and Frances Trombly, Kevin Bruk Gallery, Miami (2006).
Her work has been featured in various publications including Art + Auction, Art Papers, Sculpture Magazine, Surface Design Journal, and The Los Angeles Times and is in the permanent collection of the Museum of Contemporary Art, North Miami, Florida, as well as in private collections throughout the United States. In 2009, she received a South Florida Cultural Consortium Fellowship for Visual & Media Artists.
Randolph Gonzales
Alison, Pyrography
I'm from Albuquerque. Been in Miami for 9 years. My art is based on pure feeling, of all things on earth. Some things move my heart then I burn them in wood. Usually plant life, sea life, architecture, mechanical are always in the burn. The pyro you just see is not done.
Paul Steen
Untitled, 2 Digital color prints
Paul Steen is a Swedish artist living in the Bavarian Alps.
Education: Royal Academy of Fine Arts, Brussels, Belgium.
Per Nyström
Earth ship, Storm, mp3; It's Horror, Storm, mp3; Miami Version, mp3, Music of the video on display; Reflections, Diagnos, mp3; Vertigo, Mackaper, mp3; Everything in between, Dj Performance, Saturday, December 21st
Per Nyström is a Swedish musician involved in various different musical projects and bands in his hometown Stockholm. He plays the keyboard with The Concretes and is also a member of the organ based progressive instrumental duo Mackaper. Diagnos and Storm are the names of some of Pers other musical projects in Stockholm.
Per has also composed music for various different Swedish theatre plays. This year the underground label Moptaco Dics will put out a cassette with some of this theatre music as well as some other of Per's solo music (including the track Miami made for this exhibition.
http://soundcloud.com/mackaper
http://www.ghostwolfproductions.com/ghostwolf-records-storm.html
Adler Guerrier
Untitled (object of importance but little value), enamel on paper, 12x20 inches
http://dig.thenextfewhours.com
Jayme Gershen
Mini-me, Cards
Yearbook, Book
Jayme Gershen started making photographs early on, generally decapitating her subjects. She has since learned the importance of the face and all the information it can provide in a photograph, ultimately learning to use her skill of decapitation with precision in recent work. Photography has helped Jayme to absorb different settings and circumstances she has encountered along her constantly evolving path. She often feels that her work "knows" before she does, relying on her subconscious to expose and inspire her artistic direction, retrospectively understanding the ideas expressed in the work. Jayme's understanding of similitude across cultural boundaries allows exploration of these concepts in several bodies and styles of work.
Jayme has studied at the University of Colorado at Boulder and Miami International University. Where she received her BFA in Photography. She has lived in Massachusetts, Vermont, Colorado, and spent several months in Ghana, West Africa and Colombia. She currently lives and works in Miami, FL.
Yearbook
How did we end up in the role that we play? Was it forced or chosen? Did we choose to be forced? Perhaps our roles developed in school as we learned to handle different interactions and situations. My inability to choose a particular life role, has given me the opportunity to play hop-scotch through cities, and situations with whichever "character" I feel most connected to at the time.
In this series, I explore stereotypical roles in the American school setting, creating personalities with a nod to Cindy Sherman. These self-portraits present the class in the style of a yearbook. The interactive scenes that accompany the portraits create a storyline and interpersonal relationship among my characters. These characters continuously test one another's personal traits in each scene, prodding the question of identity development and supporting a personal exploration of self-definition via their stereotypes.
www.jaymegershen.com www.jaymegershen.tumblr.com
Emmett Moore
vis-à-vis chair, recycled pedestal material
Larry Newberry
St Jerome with the Margarita, 2012, Graphite on paper, book, frame
Sabine Herrmann
falling angel, 2009, Naturpigmente, Mischtechnik auf Aquarellkarton, ungerahmt, Natural Pigments (black tea and silver pencil), no frame, 21 x 29 cm
Born 1961, Sabine lives and works in Berlin. Since the mid 1980s the artist has been working on large-scale paintings on handmade paper, drawings, collages, stray environmental installations and books. After her studies at the Art Academy Dresden and Berlin (from 1981–1986) she co founded and organized one of the first underground–galleries in the East.
She first drew attention to her work with the solo exhibition "the poesy of the monotone" at the new founded "KW Kunstwerke" Berlin. She's got several art awards, such as the important "Vattenfall Kunstpreis". Her work has been shown widely at Museums and galleries in Germany and in several other countries. (In the US, her work has appeared at the Berman Museum Philadelphia, at the Goethe-Institute Washington and at "Deutsches Haus" in New York).
She is currently preparing for a lecture at the Museum of Modern Art, curated by the New York based poet Rob Fitterman and collective task.
In 2005 she met French artist Alice Raymond for the first time in Bordeaux, where both of them took part at the mayor arts festival "La Plie".
The shift in the technique of paint application impacts the tactile qualities of Herrmann's pieces, transforming the churning; energetic impasto of her previous expressionistic works into a soft, powdery texture. Herrmann's delicate, exquisitely subtle surfaces form one of the significant components of her compelling pictorial dramas - her quasi-visible figures the other-and, strangely, serve to empower her ghostly images. Dr. H. Braysmith PhD
About zines and collaboration with artists:
http://www.poesiedesuntergrunds.de/php/presse.php
http://books.google.de/books/about/Collective_Task.html
http://www.magnetberg.de/collective/index.html
Stephanie Marie
Second Chance, 2 pictures framed and signed, 2 speakers
Second Chance is an opportunity to discuss the value of memories, age, and failure. The broken speakers belonged to my grandmother; the drawings are not originals but photocopies; the signatures in gold are mine.
Through drawing, installation and video, Stephanie Marie discusses personal relationships with the past, mis/communication, and unconventional beauty.
Misael Soto
Performance (1/2), Saturday, December 14th
Performance (2/2), Saturday, December 21st
Alice Raymond
La nuit est un refuge, Video, 2011
Get your memory, Green board / Little Tales series, Ink, acrylic, pencil on paper, 2011
Untitled, Green board series, Ink, acrylic, chalk on canvas, 2012
Unit, wooden structure, 2012
I am a collective construction, zine, 2011
Born in France, in Miami since August 2009. Her work is based on social and cultural research. Unit is her current project at Dimension Variable, reviving the collective attitudes in her work.
Domingo Castillo
domingo castillo
two found objects whose function will change on a semi-consistent level |||
2 found, used and complicated hooks
dimensions variable, 2011-2012
dreamy nomads, baby - lisa slominski, 09.10.11-10.22.11
duets - domingo castillo, 11.12.11-12.31.11
unit - alice raymond, 01.14.12-02.18.12
The Heart of a Broken Story
Esquire XVI, September 1941, Page 32, 131‐133
EVERY day Justin Horgenschlag, thirty‐dollar‐a‐week printer's assistant, saw at close quarters approximately sixty women whom he had never seen before. Thus in the few years he had lived in New York, Horgenschlag had seen at close quarters about 75,120 different women. Of these 75,120 women, roughly 25,000 were under thirty years of age and over fifteen years of age. Of the 25,000 only 5,000 weighed between one hundred five and one hundred twenty‐five pounds. Of these 5,000 only 1,000 were not ugly. Only 500 were reasonably attractive; only 100 of these were quite attractive; only 25 could have inspired a long, slow whistle. And with only 1 did Horgenschlag fall in love at first sight.
Now, there are two kinds of femme fatale. There is the femme fatale who is a femme fatale in every sense of the word, and there is the femme fatale who is not a femme fatale in every sense of the word.
Her name was Shirley Lester. She was twenty years old (eleven years younger than Horgenschlag), was five‐foot‐four (bringing her head to the level of Horgenschlag's eyes), weighed 117 pounds (light as a feather to carry). Shirley was a stenographer, lived with and supported her mother, Agnes Lester, an old Nelson Eddy fan. In reference to Shirley's looks people often put it this way: "Shirley's as pretty as a picture."
And in the Third Avenue bus early one morning, Horgenschlag stood over Shirley Lester, and was a dead duck. All because Shirley's mouth was open in a peculiar way. Shirley was reading a cosmetic advertisement in the wall panel of the bus; and when Shirley read, Shirley relaxed slightly at the jaw. And in that short moment while Shirley's mouth was open, lips were parted, Shirley was probably the most fatal one in all Manhattan. Horgenschlag saw in her a positive cure-all for a gigantic monster of loneliness which had been stalking around his heart since he had come to New York. Oh, the agony of it! The agony of standing over Shirley Lester and not being able to bend down and kiss Shirley's parted lips. The inexpressible agony of it!
* * *
That was the beginning of the story I started to write for Collier's. I was going to write a lovely tender boy‐meets‐girl story. What could be finer, I thought. The world needs boy‐meets‐girl stories. But to write one, unfortunately, the writer must go about the business of having the boy meet the girl. I couldn't do it with this one. Not and have it make sense. I couldn't get Horgenschlag and Shirley together properly. And here are the reasons:
Certainly it was impossible for Horgenschlag to bend over and say in all sincerity:
"I beg your pardon. I love you very much. I'm nuts about you. I know it. I could love you all my life. I'm a printer's assistant and I make thirty dollars a week. Gosh, how I love you. Are you busy tonight?"
This Horgenschlag may be a goof, but not that big a goof. He may have been born yesterday, but not today. You can't expect Collier's readers to swallow that kind of bilge. A nickel's a nickel, after all.
I couldn't, of course, all of a sudden give Horgenschlag a suave serum, mixed from William Powell's old cigarette case and Fred Astaire's old top hat.

"Please don't misunderstand me, Miss. I'm a magazine illustrator. My card. I'd like to sketch you more than I've ever wanted to sketch anyone in my life. Perhaps such an undertaking would be to a mutual advantage. May I telephone you this evening, or in the very near future? (Short, debonair laugh.) I hope I don't sound too desperate. (Another one.) I suppose I am, really."
Oh, boy. Those lines delivered with a weary, yet gay, yet reckless smile. If only Horgenschlag had delivered them. Shirley, of course, was an old Nelson Eddy fan herself, and an active member of the Keystone Circulating Library.
Maybe you're beginning to see what I was up against.
True, Horgenschlag might have said the following:
"Excuse me, but aren't you Wilma Pritchard?"
To which Shirley would have replied coldly, and seeking a neutral point on the other side of the bus:
"No."
"That's funny," Horgenschlag could have gone on, "I was willing to swear you were Wilma Pritchard. Uh. You don't by any chance come from Seattle?"
"No."—More ice where that came from.
"Seattle's my home town."
Neutral point.
"Great little town, Seattle. I mean it's really a great little town. I've only been here—I mean in New York—four years. I'm a printer's assistant. Justin Horgenschlag is my name."
"I'm really not inter‐ested."
Oh, Horgenschlag wouldn't have got anywhere with that kind of line. He had neither the looks, personality, or good clothes to gain Shirley's interest under the circumstances. He didn't have a chance. And, as I said before, to write a really good boy‐meets‐girl story it's wise to have the boy meet the girl.
Maybe Horgenschlag might have fainted, and in doing so grabbed for support: the support being Shirley's ankle. He could have torn the stocking that way, or succeeded in ornamenting it with a fine long run. People would have made room for the stricken Horgenschlag, and he would have got to his feet, mumbling: "I'm all right, thanks," then, "Oh, say! I'm terribly sorry, Miss. I've torn your stocking. You must let me pay for it. I'm short of cash right now, but just give me your address."
Shirley wouldn't have given him her address. She just would have become embarrassed and inarticulate. "It's all right," she would have said, wishing Horgenschlag hadn't been born. And besides, the whole idea is illogical. Horgenschlag, a Seattle boy, wouldn't have dreamed of clutching at Shirley's ankle. Not in the Third Avenue Bus.
But what is more logical is the possibility that Horgenschlag might have got desperate. There are still a few men who love desperately. Maybe Horgenschlag was one. He might have snatched Shirley's handbag and run with it toward the rear exit door. Shirley would have screamed. Men would have heard her, and remembered the Alamo or something. Horgenschlag's flight, let's say, is now arrested. The bus is stopped. Patrolman Wilson, who hasn't made a good arrest in a long time, reports on the scene. What's going on here? Officer, this man tried to steal my purse.
Horgenschlag is hauled into court. Shirley, of course, must attend session. They both give their addresses; thereby Horgenschlag is informed of the location of Shirley's divine abode.
Judge Perkins, who can't even get a good, really good cup of coffee in his own house, sentences Horgenschlag to a year in jail. Shirley bites her lip, but Horgenschlag is marched away. In prison, Horgenschlag writes the following letter to Shirley Lester:
"Dear Miss Lester:
"I did not really mean to steal your purse. I just took it because I love you. You see I only wanted to get to know you. Will you please write me a letter sometime when you get the time? It gets pretty lonely here and I love you very much and maybe even you would come to see me some time if you get the time.
Your friend,
Justin Horgenschlag"
Shirley shows the letter to all her friends. They say, "Ah, it's cute, Shirley." Shirley agrees that it's kind of cute in a way. Maybe she'll answer it. "Yes! Answer it. Give'm a break. What've ya got t'lose?" So Shirley answers Horgenschlag's letter.
"Dear Mr. Horgenschlag:
"I received your letter and really feel very sorry about what has happened. Unfortunately there is very little we can do about it at this time, but I do feel abominable concerning the turn of events. However, your sentence is a short one and soon you will be out. The best of luck to you.
Sincerely yours,
Shirley Lester"
"Dear Miss Lester:
"You will never know how cheered up you made me feel when I received your letter. You should not feel abominable at all. It was all my fault for being so crazy so don't feel that way at all. We get movies here once a week and it really is not so bad. I am 31 years of age and come from Seattle. I have been in New York 4 years and think it is a great town only once in a while you get pretty lonesome. You are the prettiest girl I have ever seen even in Seattle. I wish you would come to see me some Saturday afternoon during visiting hours 2 to 4 and I will pay your train fare.
Your friend,
Justin Horgenschlag"
Shirley would have shown this letter, too, to all her friends. But she would not answer this one. Anyone could see that this Horgenschlag was a goof. And after all. She had answered the first letter. If she answered this silly letter the thing might drag on for months and everything. She did all she could do for the man. And what a name. Horgenschlag.
Meanwhile, in prison Horgenschlag is having a terrible time, even though they have movies once a week. His cell‐mates are Snipe Morgan and Slicer Burke, two boys from the back room, who see in Horgenschlag's face a resemblance to a chap in Chicago who once ratted on them. They are convinced that Ratface Ferrero and Justin Horgenschlag are one and the same person.
"But I'm not Ratface Ferrero," Horgenschlag tells them.
"Don't gimme that," says Slicer, knocking Horgenschlag's meager food rations to the floor.
"Bash his head in," says Snipe.
"I tell ya I'm just here because I stole a girl's purse on the Third Avenue Bus," pleads Horgenschlag.
"Only I didn't really steal it. I fell in love with her, and it was the only way I could get to know her."
"Don't gimme that," says Slicer.
"Bash his head in," says Snipe.
Then there is the day when seventeen prisoners try to make an escape. During play period in the recreation yard, Slicer Burke lures the warden's niece, eight‐year‐old Lisbeth Sue, into his clutches. He puts his eight‐by‐twelve hands around the child's waist and holds her up for the warden to see.
"Hey, warden!" yells Slicer. "Open up them gates or it's curtains for the kid!"
"I'm not afraid, Uncle Bert!" calls out Lisbeth Sue.
"Put down that child, Slicer!" commands the warden, with all the impotence at his command.
But Slicer knows he has the warden just where he wants him. Seventeen men and a small blonde child walk out the gates. Sixteen men and a small blonde child walk out safely. A guard in the high tower thinks he sees a wonderful opportunity to shoot Slicer in the head, and thereby destroy the unity of the escaping group. But he misses, and succeeds only in shooting the small man walking nervously behind Slicer, killing him instantly.
Guess who?
And, thus, my plan to write a boy‐meets‐girl story for Collier's, a tender, memorable love story, is thwarted by the death of my hero.
Now, Horgenschlag never would have been among those seventeen desperate men if only he had not been made desperate and panicky by Shirley's failure to answer his second letter. But the fact remains that she did not answer his second letter. She never in a hundred years would have answered it. I can't alter facts.
And what a shame. What a pity that Horgenschlag, in prison, was unable to write the following letter to Shirley Lester:
"Dear Miss Lester:
"I hope a few lines will not annoy or embarrass you. I'm writing, Miss Lester, because I'd like you to know that I am not a common thief. I stole your bag, I want you to know, because I fell in love with you the moment I saw you on the bus. I could think of no way to become acquainted with you except by acting rashly—foolishly, to be accurate. But then, one is a fool when one is in love.
"I loved the way your lips were so slightly parted. You represented the answer to everything to me. I haven't been unhappy since I came to New York four years ago, but neither have I been happy. Rather, I can best describe myself as having been one of the thousands of young men in New York who simply exist.
"I came to New York from Seattle. I was going to become rich and famous and well‐dressed and suave. But in four years I've learned that I am not going to become rich and famous and well dressed and suave. I'm a good printer's assistant, but that's all I am. One day the printer got sick, and I had to take his place. What a mess I made of things, Miss Lester. No one would take my orders. The typesetters just sort of giggled when I would tell them to get to work. And I don't blame them. I'm a fool when I give orders. I suppose I'm just one of the millions who was never meant to give orders. But I don't mind anymore. There's a twenty‐three‐year‐old kid my boss just hired. He's only twenty‐three, and I am thirty‐one and have worked at the same place for four years. But I know that one day he will become head printer, and I will be his assistant. But I don't mind knowing this anymore.
"Loving you is the important thing, Miss Lester. There are some people who think love is sex and marriage and six o'clock‐kisses and children, and perhaps it is, Miss Lester. But do you know what I think? I think love is a touch and yet not a touch.
"I suppose it's important to a woman that other people think of her as the wife of a man who is either rich, handsome, witty or popular. I'm not even popular. I'm not even hated. I'm just—I'm just—Justin Horgenschlag. I never make people gay, sad, angry, or even disgusted. I think people regard me as a nice guy, but that's all.
"When I was a child no one pointed me out as being cute or bright or good‐looking. If they had to say something they said I had sturdy little legs.
"I don't expect an answer to this letter, Miss Lester. I would like an answer more than anything else in the world, but truthfully I don't expect one. I merely wanted you to know the truth. If my love for you has only led me to a new and great sorrow, only I am to blame.
"Perhaps one day you will understand and forgive your blundering admirer,
Justin Horgenschlag"
Such a letter would be no more unlikely than the following:
"Dear Mr. Horgenschlag:
"I got your letter and loved it. I feel guilty and miserable that events have taken the turn they have.
If only you had spoken to me instead of taking my purse! But then, I suppose I should have turned the conversational chill on you.
"It's lunch hour at the office, and I'm alone here writing to you. I felt that I wanted to be alone today at lunch hour. I felt that if I had to go have lunch with the girls at the Automat and they jabbered through the meal as usual, I'd suddenly scream.
"I don't care if you're not a success, or that you're not handsome, or rich, or famous or suave. Once upon a time I would have cared. When I was in high school I was always in love with the Joe Glamor boys. Donald Nicolson, the boy who walked in the rain and knew all Shakespeare's sonnets backwards. Bob Lacey, the handsome gink who could shoot a basket from the middle of the floor, with the score tied and the chukker almost over. Harry Miller, who was so shy and had such nice, durable brown eyes.
"But that crazy part of my life is over.
"The people in your office who giggled when you gave them orders are on my black list. I hate them as I've never hated anybody.
"You saw me when I had all my make‐up on. Without it, believe me, I'm no raving beauty. Please write me when you're allowed to have visitors. I'd like you to take a second look at me. I'd like to be sure that you didn't catch me at a phony best.
"Oh, how I wish you'd told the judge why you stole my purse! We might be together and able to talk over all the many things I think we have in common.
"Please let me know when I may come to see you.
Yours sincerely,
Shirley Lester"
But Justin Horgenschlag never got to know Shirley Lester. She got off at Fifty‐Sixth Street, and he got off at Thirty‐Second Street. That night Shirley Lester went to the movies with Howard Lawrence with whom she was in love. Howard thought Shirley was a darn good sport, but that was as far as it went. And Justin Horgenschlag that night stayed home and listened to the Lux Toilet Soap radio play. He thought about Shirley all night, all the next day, and very often during that month. Then all of a sudden he was introduced to Doris Hillman who was beginning to be afraid she wasn't going to get a husband. And then before Justin Horgenschlag knew it, Doris Hillman and things were filing away Shirley Lester in the back of his mind. And Shirley Lester, the thought of her, no longer was available.
And that's why I never wrote a boy‐meets‐girl story for Collier's. In a boy‐meets‐girl story the boy should always meet the girl. |||
Documentation
on XXXX, an ongoing conversation between Domingo Castillo and Ruth Legg
CollectiveTask, book of the collective, with Sabine Herrmann
Yine Mours, documentation/track from Rencontres project
Catalogue de fringues de copains,
printed edition of the original exemplary, Alice Raymond